Does your family like bacon? Do you like pancakes? How about putting them together?
My son saw a photo on Facebook of this idea and immediately wanted us to try it so we made them for breakfast this morning.
Ingredients:
Bacon (I use the uncured bacon which uses celery juice rather than nitrites)
Pancake mix (homemade or from mix- whatever is easiest for you)
Steps:
1. Cook the bacon. I find doing it in the oven makes them come out straight and flat.
2. Drain the bacon on paper towels.
3. Prepare the pancake batter.
4. Heat a griddle or pan. Spray it with cooking spray.
5. Place a few slices of bacon with space between them.
6. Pour pancake mix on top of the bacon. Be sure to get some batter around all the edges.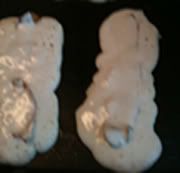 7. When the pancakes are ready, flip them over and cook a bit more.
8. Serve with syrup.
That was easy! Enjoy.