This is NOT TO BE missed performance, SPARC has been putting on this Live Art show for the last few years.  Erin Thomas-Foley, the director of education, shared a vision for a new and unique inclusive arts program and performance for children with disabilities to be able to shine on stage! They shine, so bright! They have the help of other students, teachers, the community and an incredible cast of stars from all walks of life and backgrounds.  
The LIVE ART program offers individualized and group training, along with performance opportunities, to students of all abilities. The goal of the program is to create equally inclusive classes — half typically developing students and half students with special needs — where students come together to create a once in a lifetime performance for their community.

Our son was a part of it last year and we walked away in awe, not only of the performance, but from the community created and the bonds made. The fact that our son was there, fit in, had fun and they  knew who  he was- was AMAZING! 
This year the performers coming to join are pretty incredible ! Jason Mraz, Rob Thomas, Colbie Callait, Richmond's Susan Greenbaum and so many more- you can click here to see the full list.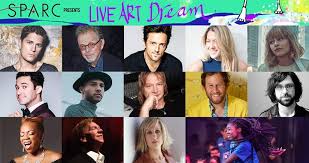 Tickets are available,but they are selling fast - I cannot say enough about the experience you will have, even if your child is not on stage. 
Here is ticket info and more here.