Science Museum of Virginia Hot Wheels™: Race to Win™
Buckle Your Seat Belts and Start Your Engines! Hot Wheels™: Race to Win™ Is Open at the Science Museum of Virginia!
The world's most famous toy vehicles, Hot Wheels® speeds into the Science Museum of Virginia this fall for a touring exhibition that is sure to thrill motorsports and science fans of all ages. Step into the Hot Wheels race team garage for a firsthand look at the science behind power, safety and speed.
Introduced by Mattel in 1968, the "tricked-out" toy cars have come a long way (both in the die-cast and life-size varieties). More than 800 models and 11,000 variations of Hot Wheels cars have been created and more than 4 billion Hot Wheels die-cast cars have been sold.
Hot Wheels™: Race to Win™ features supersized Hot Wheels racetracks, a life-sized pit stop, interactive games, memorabilia and more! Anyone that has ever played with Hot Wheels or watched their favorite race team knows that speed is key to winning. However, have you ever wondered about the science behind all that motion? This exhibition helps to answer questions like what makes one car faster than another, how do engines use fuel, and what technologies improve performance and keep drivers safe.
This behind-the-scenes look at the thrilling world of racing investigates the scientific process for designing super-fast cars and helps families who have the need for speed understand how it is achieved. Using Hot Wheels die-cast cars, guests will be part of a dynamic race team working together to build and test the world's fastest (and safest) speed machines.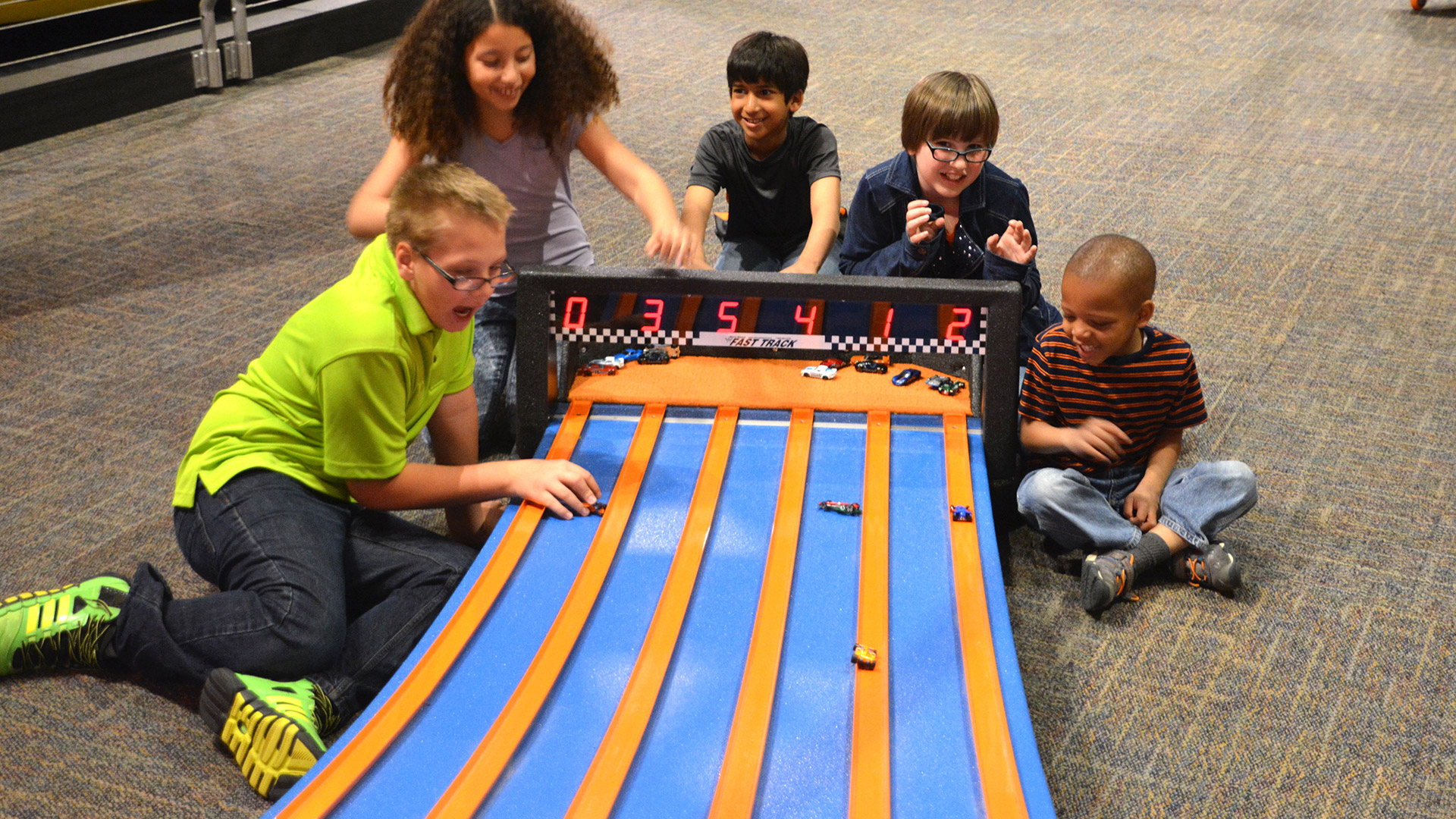 Generations of kids have looked for ways to power up their favorite cars. In this exhibition you can learn how to give your car some muscle! Numerous interactive displays and simulators throughout teach guests how to design the perfect car to win.
Engage your competitive spirit and race on a 6-lane downhill speed track, booster power track, time track or make fantastic jumps on an adjustable angles track. These are just a few of the many ways visitors can test their theories regarding the science of racing and cause and effect. Not only are these activities extremely fun, but they also take complex physics concepts and make them easy to understand and explain. Family and friends can also face off in a Pit Stop Challenge where team members race to beat the clock to see who can jack the car, change the tires, and refuel the fastest just like in a real stock car race.
With four zones, each focusing on different aspects of real-life race car design and testing, there is plenty to take in. Additionally, real race car parts, authentic artifacts, and captivating memorabilia help to round out the exhibition. Don't miss this opportunity to push the limits of your imagination and learn about the world of racing in this all-new exhibition.
Hot Wheels™: Race to Win™ is included with Museum admission, which is $15.50 for adults, $13.50 for youth and seniors, and $10 for preschool age children. Children 2 and under are free.
Learn more here
Hot Wheels™: Race to Win™ Produced by The Children's Museum of Indianapolis and Mattel. HOT WHEELS and associated trademarks and trade dress are owned by, and used under license from, Mattel. ©2021 Mattel. All Rights Reserved. Locally sponsored by TowneBank and Woodfin - Your Home Team.