As we move through life, we find that life isn't so much measured in time - but counted in memories. We value milestones of our life - not so much the years. We liken our experience based on the successes and failures in our past, using them as a determinant as predicting the future.

Time is measured not by the breaths you take, but by the moments that take your breath away.

Our successes are often the result of our focus: the things we prepare for are the things we find consistent success with. So consider this: when is the last time YOU had a milestone that you could CONTROL?

If you're serious about health being your primary concern, consider the first step: what are your goals?

We set goals for the following reasons:
1. Guidance
2. Inspiration
3. Motivation
4. Accountability

When we set goals, we know where we are going. We know the path before us and how to get there - which can lead to inspiration. We are inspired by our great journey and motivated to stay with it through the time it takes. We hold ourselves to that time - to that goal - when we have everything working together.

At Burn Boot Camp, we will be glad to talk to you about your goals. Your life can change by working towards your goals and our mission is to help give you the tools to reaching your results.

Come see us so we can help talk to you about getting started and in the road to seeing results! If you have not tried Burn Boot Camp yet, ask about our FREE 14 day trial. If you are already a part of our community, share with a friend to have them join us too!

Editor's note- I have been a member of Burn Boot Camp since it opened in Richmond last July. I have NEVER( and I mean NEVER) been a girl who likes classes or have I stuck with a gym. Burn has given me confidence, strength and new friendships. I truly am grateful for the trainers here and the ability to have such a support while staying fit.  If you would like to come and try a class for free, you can ! Saturday's are open to the public at 830 and 930 am .Plus, you don't need to be coordinated - I promise,  I am the one in camp that looks at Brett and says, "I don't understand"( while going the wrong way). Brett smiles, redirects and offers nothing but support!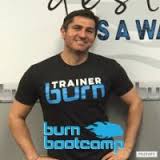 Brett Timpano is the head trainer at BBC Short Pump. He has  been in the fitness industry for 10+ years as a group exercise instructor, personal trainer, and group fitness manager at one of the largest gyms on the east coast.  He comes with a multi-sports background having grown up playing soccer, swimming, and running track. He is  passionate about inspiring people to change their lives, and helping give them the guidance to make it happen. He looks forward to meeting and working with everyone at Burn Boot Camp Short Pump to help change the  community into a healthy, happy, society of strong-willed people!