Happy Friday Richmond friends, hope you had a great week. Mine was busy, busy, busy. So excited to be bringing you so many great new sponsors and giveaways. It is funny, almost 10 years into this "job" of mine and I still get so excited to be able to make things happen for all of you! I When I decided to give this a whirl, never having done anything like this before, I did not expect to love it all so much, or to love it for this length of time. I am grateful for this opportunity and look forward to continuing to bring you all of the best RVA family fun!
I have been struggling with sleep since the time change, my dogs have woken us up every morning at 3 am!! This momma is tired, but, Marky & I ran away to Dave & Busters on Tuesday after voting and we had a blast! Watch for our Santa Fun Giveaway there coming up! My hubs and I are attending an Autism Gala Saturday night, we are getting dressed up and having a real date! Hope I can stay awake, at least I know my hair will be looking good, Chris at Meraki will be "getting me ready!" Look at this pic from 7 years ago after he used me as a model for a blow dry! So fun :)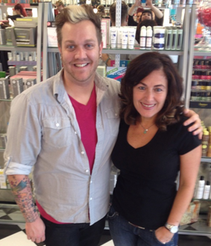 Welcome Children's Museum Of Richmond to our site! With 3 locations throughout Richmond CMOR has tons of fun for our families, read about them in our article below and watch for more fun!
Also, welcome Meraki Salon to the site, Meraki is offering Mac Kid visitors 10% off, check out the info below and treat yourself ! We deserve it!
We have some amazing giveaways this week, our sponsors make this all possible!
I saw Virginia Rep's performance last night of 13, The musical, read my review here, it was GREAT!
Here are my favorite and easy to start, Thanksgiving Traditions . Here is our Pinterest Board for all things Thanksgiving, we will add more to it as well. There are some fun finds here.
Check out Tuck Everlasting at Virginia Rep and use the code MACTUCK for $3 off each ticket, Valid for performances through November 24.
Marks & Harrison is highlighting a great organization called ASK, supporting Children's cancer.
QUOTES!
Trisha Yearwood: "Someone else's opinion of me is none of my business."
Making the decision to have a child is momentous. It is to decide forever to have your heart go walking around outside your body.—Elizabeth Stone


GIVEAWAYS!
The Elf On The Shelf- see article below
Virginia Rep's Patsy - see article below
Still Running - PJ Masks - here is the link to enter
WINNERS!
Virginia Rep's 13- play about growing up- Christine Sisic
Our calendar here will show you some of the highlights, but on the site, you can see weeks and weeks and our full calendar! ! Please remember to check with venues before heading out as we are not informed when events are rescheduled or canceled! The listing below is only a sampling of our calendar, for the full Richmond events link, check out here-.
Wishing you all a wonderful week.
xoxo
Carissa