5 INCREDIBLE TODDLER VACATION DESTINATIONS YOUR FAMILY WILL ACTUALLY ENJOY
Just because you've settled down and had kids doesn't mean your adventuring days are over. Family vacations introduce kids to the inner workings of other cultures through language, sports, crafts, and time with experts that bring what they've learned in school into real life. Whether you're lie-on-a-beach-with-a-coconut people or adventure junkies, there are incredible toddler vacation destinations that are only a few flight hours away to indulge your personal idea of a tropical family vacation.
Here are our Top 5 of the best toddler vacation destinations:
1.Riviera Maya, MEXICO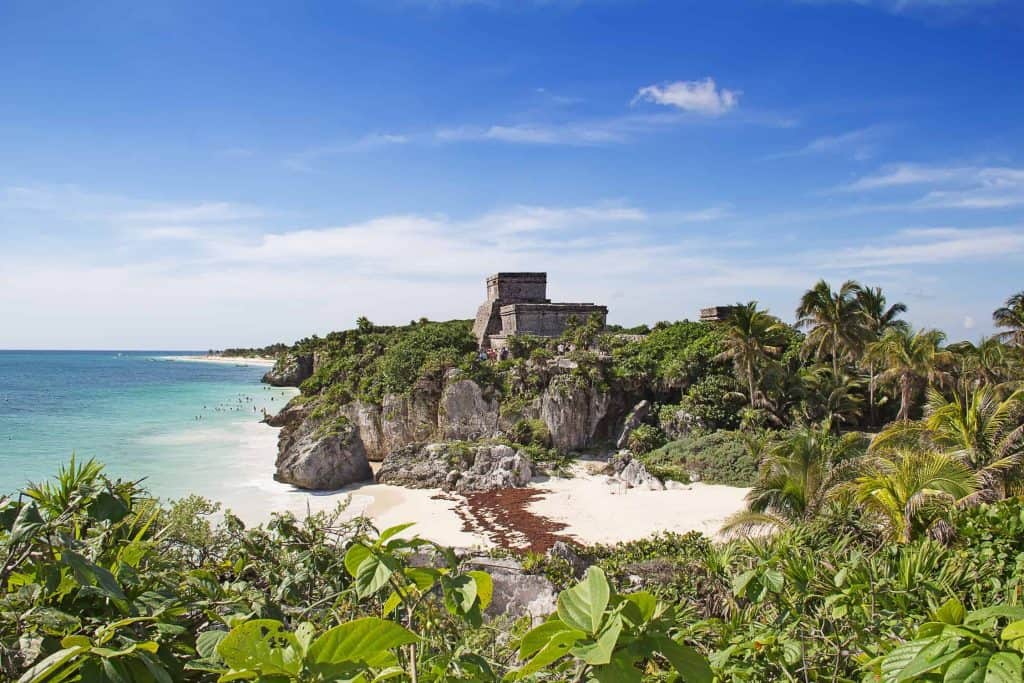 Mexico is one of the best countries in the world to travel with children. The culture is very family-oriented and people will welcome your children pretty much everywhere. There are also many attractions that are designed with families in mind.
The Riviera Maya is a natural choice for best toddler vacation destinations. The beaches are idyllic but there are also nature parks, cenotes, and archaeological sites to explore. The Riviera Maya runs along the Caribbean coastline of the state of Quintana Roo. South of the Riviera Maya, you'll find the Costa Maya, an even more secluded and pristine area. Don't confuse the Mayan Riviera with the Mexican Riviera, which is the name given to Mexico's Pacific coastline.
There are many family-friendly resorts in the Riviera Maya. With kids' clubs to keep the kids occupied, parents can use their leisure time at the beach or pool-side, or book a treatment at the spa.
Beach-loving families will be happy to spend most of their time enjoying the sun, sand, and sea; building sandcastles, collecting shells and playing in the waves can keep little kids happy for many hours, but the Riviera Maya also has tons to do off the beach. There are archaeological sites to explore, cenotes to cool off in, and many parks, such as Xcaret, where you can learn about the nature and culture of the area.
2 .San Ignacio, BELIZE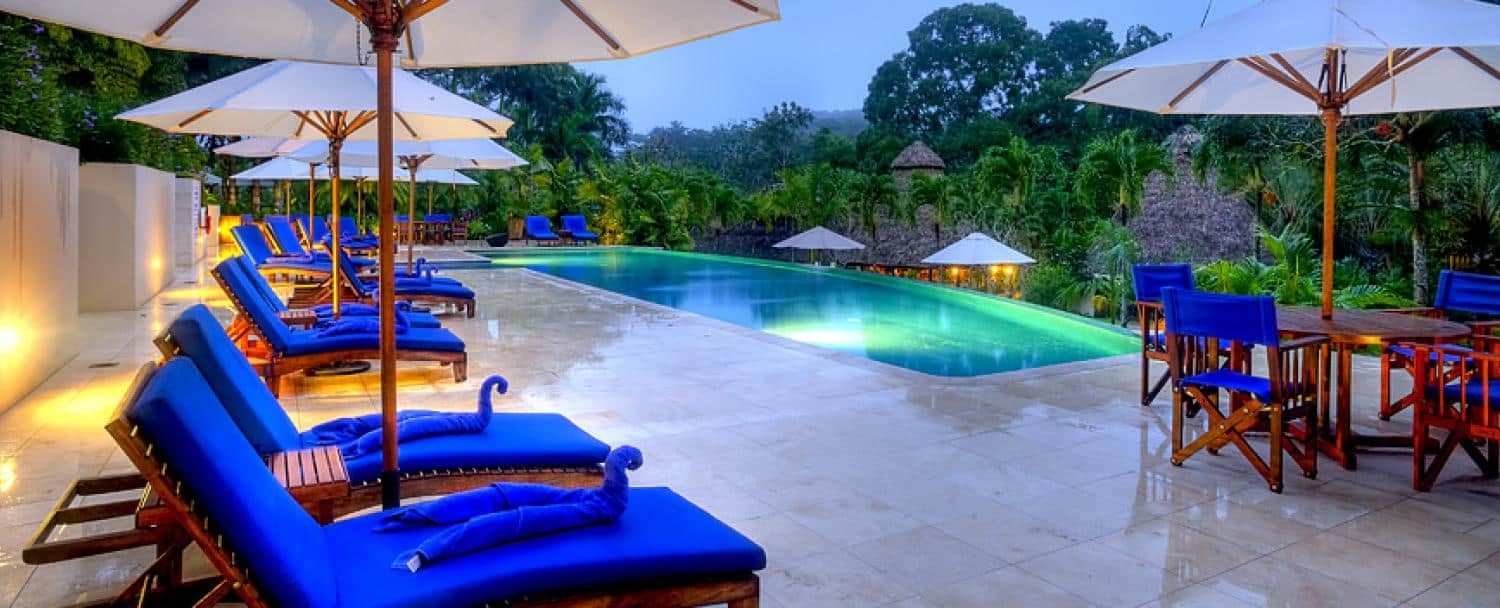 What is surprising about Belize is the cultural diversity of such a small country with a tiny population. Mayans, Creole, Mestizos, and Garinagu being the most common of groups and they all live in harmony, respect, and embrace each other's cultural differences.
Once a British colony and known as British Honduras, the first language is English. That makes things such as navigating maps and chatting with locals very easy.
A couple of hours west of Belize City is the quaint town of San Ignacio. It's a colorful little place with lots going on. It is a great base for budget-friendly tropical adventure travel and definitely one of the best toddler vacation destinations in Central America.
Toddler-friendly activities include
Chocolate-making: Learn how to turn raw cacao beans into drinking chocolate. Kids are allowed to grind the beans and sample just about everything and of course you get to drink the warm chocolate at the end.
Maya Ruins: The easiest and most accessible are only a few minutes away and can easily be reached by taxi. The Cahal Pech ruins are one of the smaller Maya sites and are perfect to explore for toddlers. There's lots of vegetation so shade is available too.
Iguana Sanctuary: Inside the San Ignacio Hotel, there is a conservation project underway to protect one of the country's beloved creatures, the iguana. You will learn about their protection measures and might even get the chance to feed them! Your toddlers will surely love this!
Chaa Creek is a wonderful resort that is located about half an hour from San Ignacio. It's an award-winning Belize Jungle Resort, located in the heart of the Maya civilization. Here, adventure abounds within the rainforest reserve. Whether you decide to stay or just visit, there is plenty for everyone to do, especially with kids: With hiking, horseback riding and canoeing, as well as guided nature walks and river exploration included in on-site activities, there are plenty of choices to excite every member of the family. There's even a Butterfly farm. Kids up to 18 years stay for free!
3. Tamarindo, COSTA RICA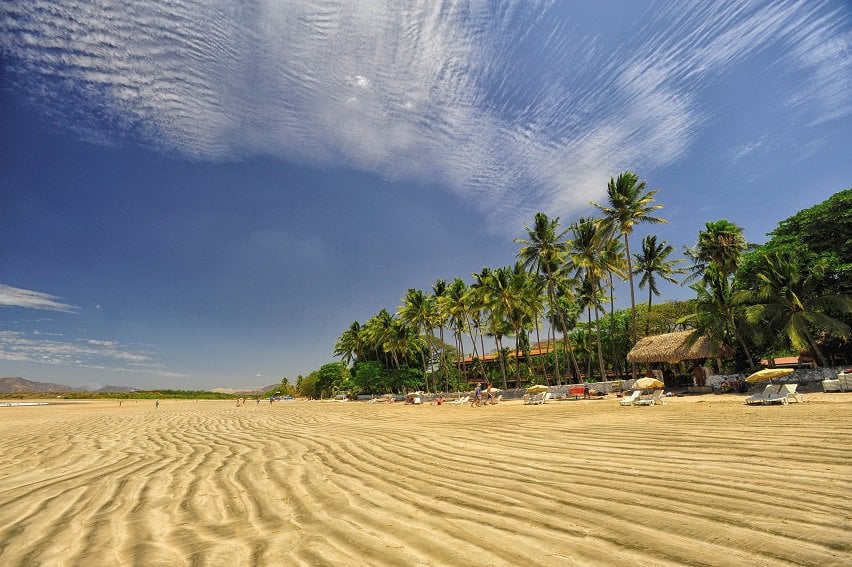 is a great country to travel to if you're bringing little ones. It is safe, warm, and connected enough to the first world that you can enjoy the differences.
Tamarindo is one of the best toddler vacation destinations, located in the Guanacaste province, which attracts many visitors year-round. It is undoubtedly an ideal destination for those visitors traveling with toddlers. It has a huge variety of accommodation services, from basic to more luxurious. Many of the hotels are located just a few steps from the beach. In the town center, you find all necessary services such as pharmacies and supermarkets, where you can buy everything you need from sun lotion to after-bug-bite cream, Tylenol, diapers, or beach toys.
And "Ticos" are super friendly and love kids. Many restaurants will have a kid's menu and will be happy to accommodate any special baby food needs.
While there are countless activities for older kids and grown-ups such as surfing, boogie boarding, zip-lining, there are options for the very little ones as well. The southern end of the bay is the most kid-friendly stretch of the beach, well protected from the wind, has the smallest waves, and the least currents. There is a boutique hotel located right here that would be an awesome choice for a family with toddlers.
Other toddler-friendly activities include: visiting the local farmer's & crafts market (Sat mornings) or the night market (Thursdays), enjoying walks on the long beach, playing mini-golf, or participating in turtle nesting tours in Las Baulas Marine Park. Or you could just while away the time people-watching and enjoying a pipa (coconut) or cocktail at one of the many beach bars.
Off-the-beaten-track toddler alternative to Tamarindo
Samara is also located in Guanacaste province. It has calmer waters but not a lot of tourist infrastructures. Most hotels are more basic and are not as conveniently located at the beach. But if you are looking for a more off-the-beaten-track experience and don't mind roughing it a bit, this is another awesome place to go with your little ones.
Life in both Tamarindo and Samara is very laid-back, so go and have a great time.
4. Isla Palenque, PANAMA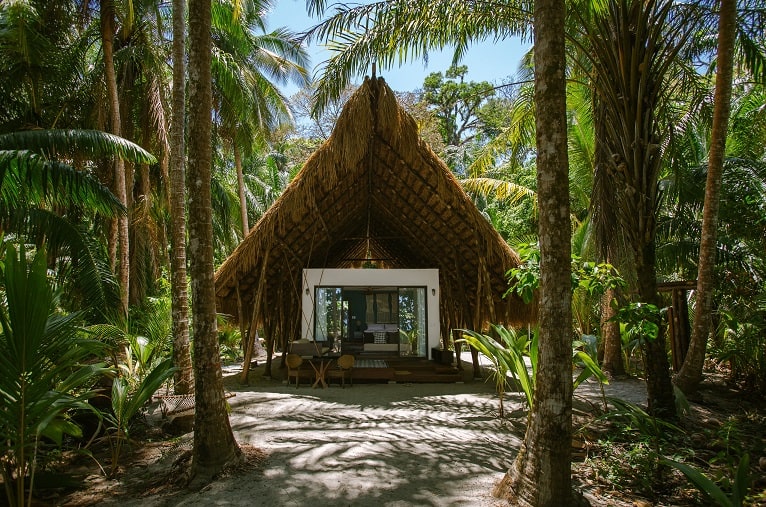 For adventurous families, traveling to Panama with kids is an unforgettable experience. From jungle hikes to whale-watching tours and sailing trips among Caribbean islands, there are countless ways to explore the natural wonders of this country. Panama is still widely unexplored and therefore an excellent destination for off-the-beaten-path adventure and undisturbed relaxation for the whole family. For families with toddlers, we have the best toddler vacation destination: Isla Palenque.
Isla Palenque is located near Boca Chica and can be easily reached from Panama City via a short domestic flight to David and a car/boat transfer from there.
The Resort of Isla Palenque has really mastered the art of a family tropical island adventure. There are 400 acres of private island and jungle to discover. The waters are safe and gentle – perfect even for the little ones. The beaches are long, ideal for walks and to collect rocks. While on Isla Palenque you are sure to see and hear howler monkeys, exotic birds, and the sounds of the sea. Daybeds and hammocks are perfect for the whole family to relax in while the Casitas offer all amenities. Designed with indoor-outdoor living in mind, families have all the extravagances they'd expect from a luxury hotel. Babysitting services and cribs are also available. The chefs are happy to prepare special baby and toddler food. And, Panamanians love children! Are you a nature lover that wants to stay in a luxurious place? Then make sure to put Panama and Isla Palenque on your bucket list!
Other awesome toddler vacation destinations in Panama include the Caribbean islands of Bocas del Toro and San Blas (Guna Yala).
5.Grace Bay, TURKS & CAICOS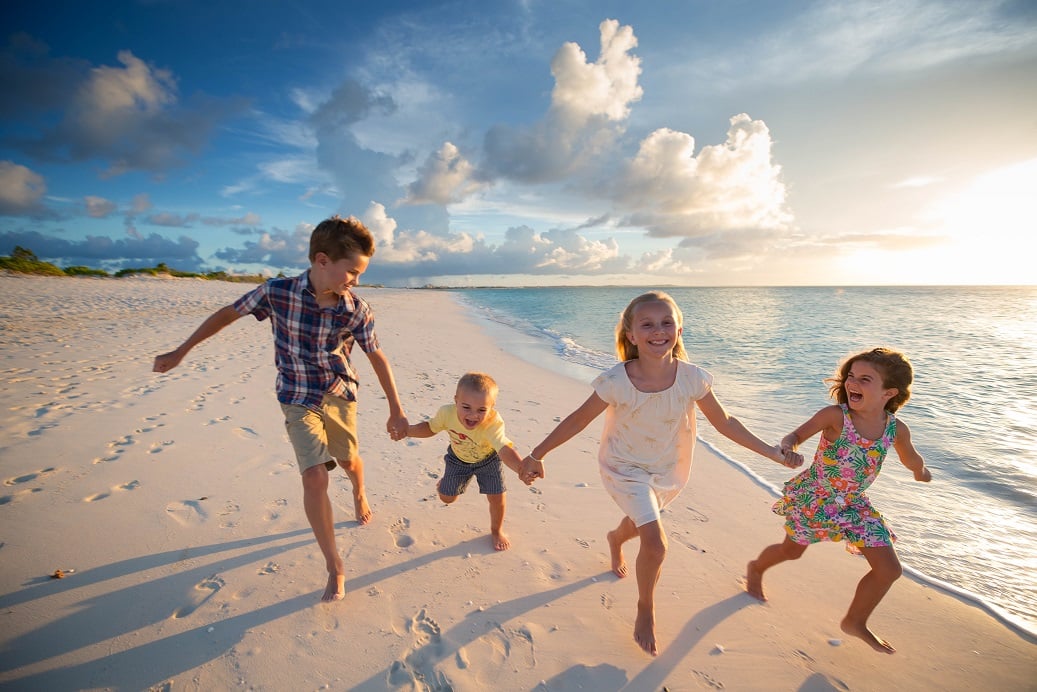 The paradise of 40 islands that make up Turks & Caicos sits in the middle of the Caribbean. Here you will not find theme parks but beautiful sandy beaches and endless summer sun – a perfect getaway for families with small children. It has a dry, tropical climate with year-round sunshine and temperatures between 70-75 (Dec/Jan) and 90*F (July).
The holiday capital of Turks and Caicos, Providenciales, is the place for big beaches and luxurious family resorts. Many of them are located right at the beach, making it easy for families with small kids. Some resorts are either all-inclusive or have kitchens for self-catering or making toddler food.
Grace Bay is officially the world's best beach and you'll find it on Providenciales, also called Provo. With three national parks, several marine and nature reserves, miles of coast, and a laid-back atmosphere, it's the perfect island for young kids. Toddlers can try all sorts of water sports for the first time in safe, calm waters. But there is also island hopping, iguana watching, or just exploring – very little is off-limits to kids. What else could you wish for in a toddler vacation destination?
The islands can easily be reached with short flights from many major US cities. English is the official language and the US Dollar is the common currency.
Should this short article have raised your curiosity to venture out into the whole wide world with your family – and we most certainly hope so -, we'd love to help you to organize your next amazing family vacation.
Our personalized service guarantees that your next family vacation to any of our tropical destinations will be unique, enjoyable, and trouble-free! Our family vacation packages cater to your family's interests, size, ages, and budget. And all our tours can be customized to your family's needs! Make sure to check out our Family Vacations!
Visit us online to read our other amazing blog articles or join our newsletter list and never miss a great deal to our fascinating travel destinations.
Are you looking to get a free quote for an amazing tropical family vacation? Get in touch with us today. Plan now – travel later.
Contact Anja Phillips at TropiQ Trips, LLC
Facebook/IG/Pinterest: TropiQTrips
(540) 208-8848